Kodaikanal for Families: Fun Activities and Kid-Friendly Attractions
Kodaikanal is a paradise that offers a perfect blend of natural beauty, tranquility, and a plethora of activities suitable for families. If you're looking for a destination that caters to both adults and children, where laughter fills the air and excitement knows no bounds, then Kodaikanal is the place to be.
Nature takes center stage in Kodaikanal, providing a refreshing escape from the hustle and bustle of everyday life. From serene lakes to lush green forests, the natural beauty of this hill station is truly awe-inspiring. Take your family on a tranquil boat ride across the shimmering waters of Kodai Lake, or explore the surrounding hills and valleys on a leisurely trek.
For the adventurous souls in your family, Kodaikanal offers an array of thrilling activities. Trek through the dense forests to reach the majestic Silver Cascade Falls, where cascading waters create a stunning spectacle. Engage in a friendly competition of mini-golf or go horseback riding along the scenic trails, making memories that will last a lifetime.
In this blog, we will guide you through the best family-friendly activities and attractions that Kodaikanal has to offer. From exploring the enchanting natural landscapes to discovering the cultural heritage of the region, we'll provide you with the ultimate itinerary to create cherished memories with your loved ones.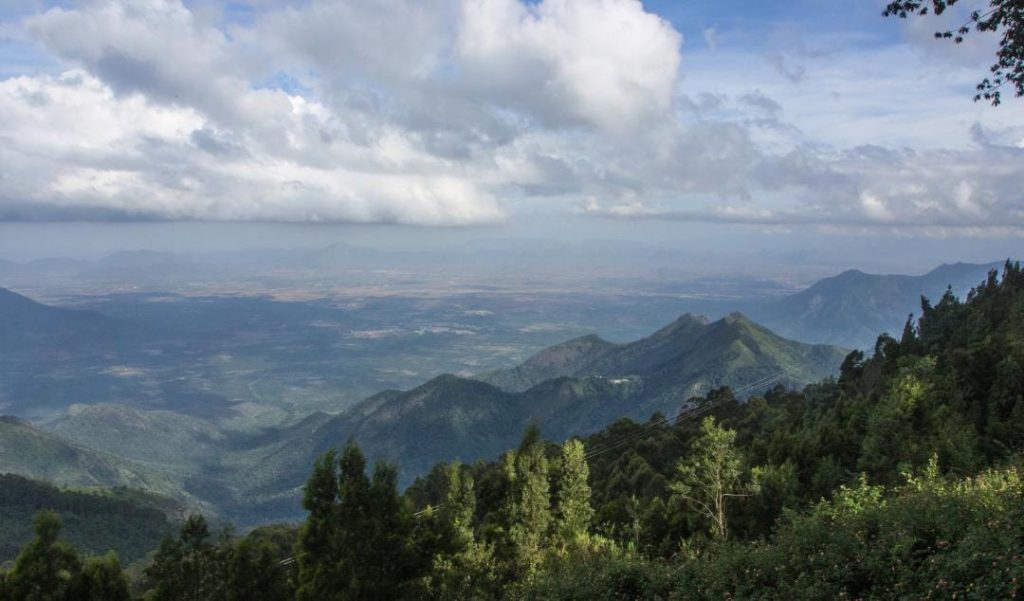 Constructed in 1872 by Lieutenant Coaker, this approximately 1 km walk on the sloppy hills offers a splendid view of the valley and the mountains. One can also spot the Dolphin's Nose, Periyakulam town, and Madurai city from this viewpoint.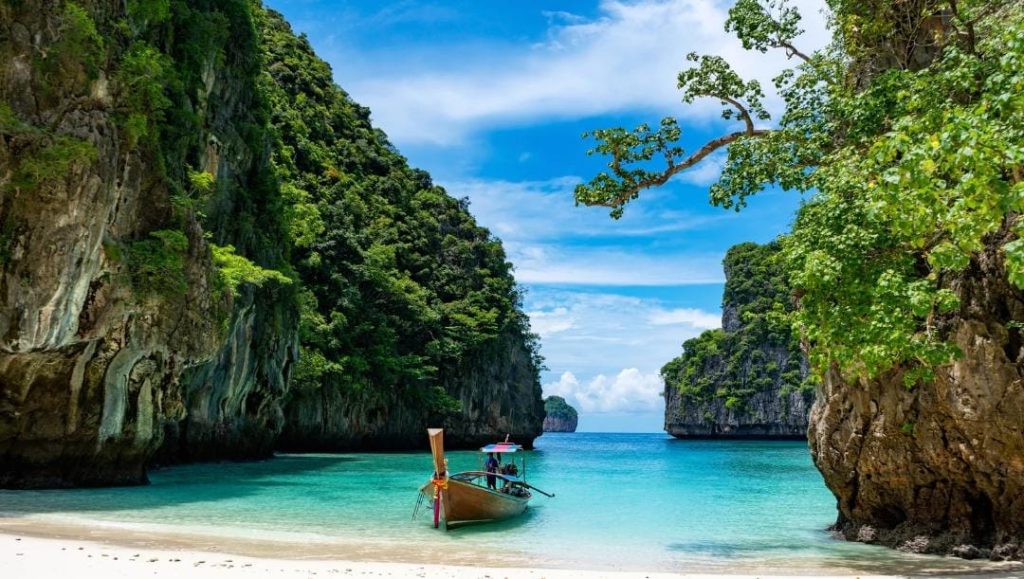 Boating is never a bad idea, especially not in a lake surrounded by dense, lush-green forests on all sides. The Kodaikanal Lake has a dense growth of macrophytes of all types. Macrophytes treat wastewater and provide food to fish in the lake. These can be spotted by the naked eye. Thus, boating here offers a peaceful and scenic setting in the lap of nature.
By taking a short road trip from Kodaikanal, one can visit the Mannavanur Lake and sheep farm. It has a great view and is a very photogenic spot for tourists. One can just relax and spend some quality time here with their family. 
4. Bryant Park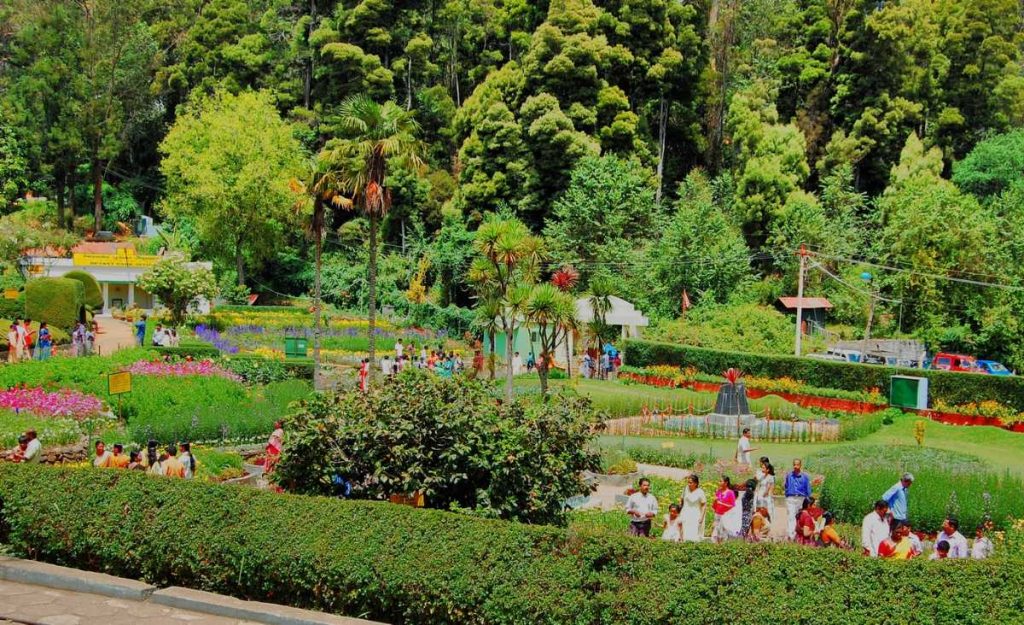 Known for its exquisite variety of flowers, this park has colorful flower beds and well-maintained lawns, filled with the sweet fragrance of flora. Here, one can find over 325 varieties of species of trees from shrubs, cactuses, creepers, and colorful flowers. When all the flowers bloom, with the sun shining over them, it is a spectacular view, like that of a rainbow.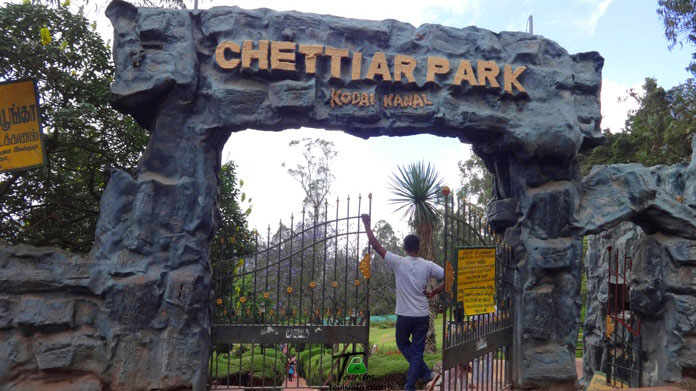 Another park, located in the middle of lush green forests with a view of the valley, this park has a lot of flowers, trees, herbs, and shrubs. A playground for kids, it acts as a relaxing and soothing place for adults to spend quality time in a scenic setting surrounded by nature.
6. Pillar Rocks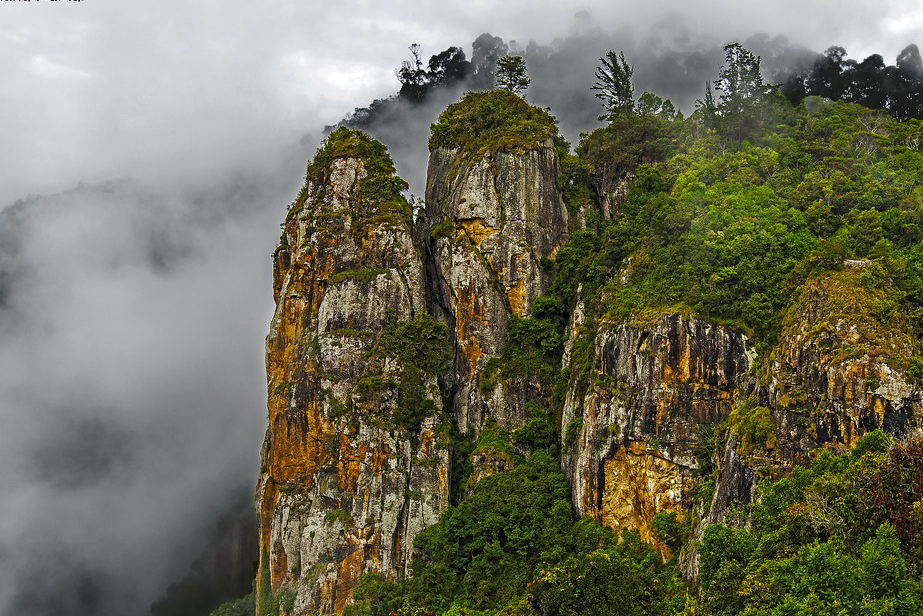 These are three vertical granite boulders amongst the rainforests of Kodaikanal which offer a picturesque view of the valley below. Standing as tall as 400 feet, these rock formations have been a tourist attraction. With their heads in the clouds, they give a breathtaking view of the valley and the surrounding mountains.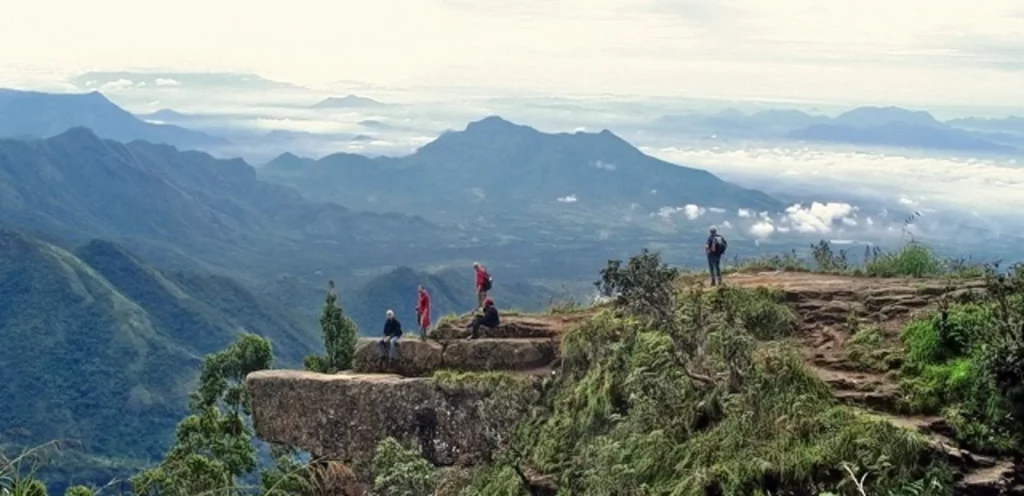 The view from this spot is to die for. Trekking here through the dense forests of the Palani hill range, exploring waterfalls and local culture along the way, is a great idea to experience an awe-inspiring sight of nature at its best. The valleys and the mountains here offer the perfect mix of adventure and solace.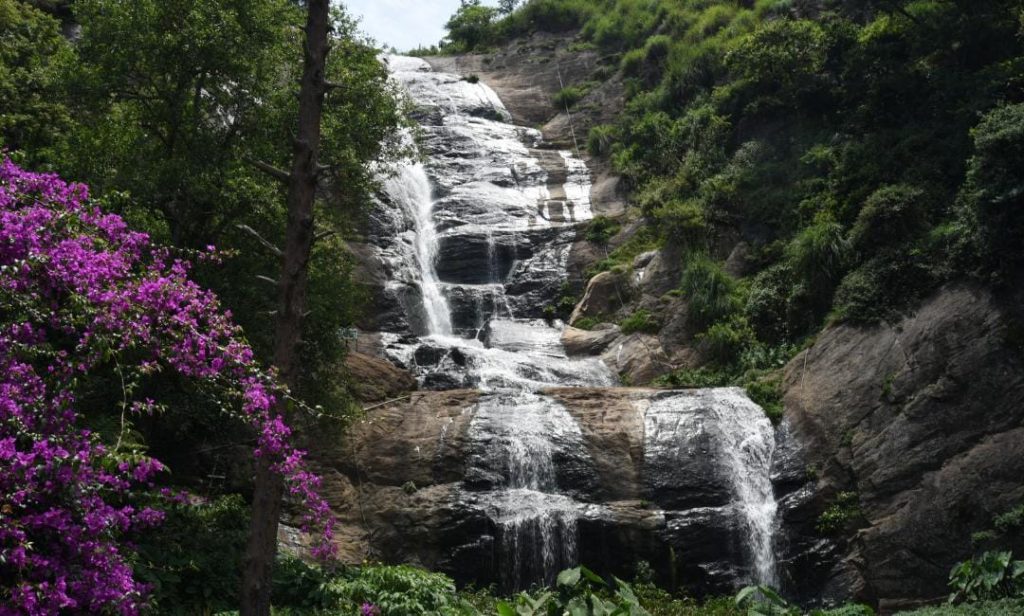 It gets its name from the bears that used to visit this place at some point in time to drink water from the falls. Situated in the midst of dense forests, there is nothing but nature here. With birds chirping, the sound of water falling from the mountains, and the view of the lush greenery, it is a perfect tourist place. Clicking some pictures here or even sitting beside the lake that forms with your legs dipped in the water is never a bad idea.
9. Trekking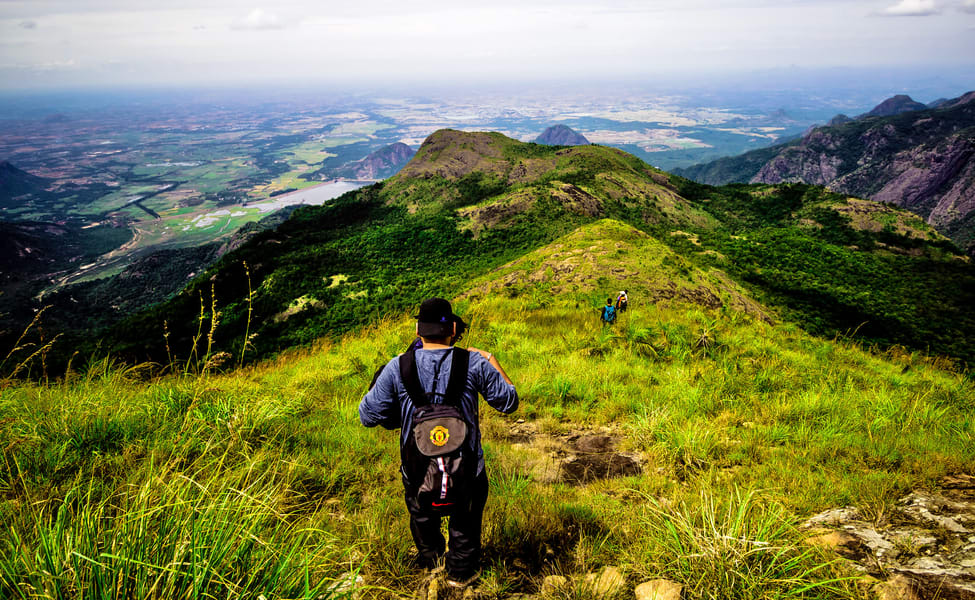 Kodaikanal offers several trekking experiences through nature for families with kids such as the trek to Berijam Lake, which is surrounded by dense forests and a view of the lake flowing by. A serene setting amidst the forests, it is a good place for trekking. You would not even realize how much distance you have covered, exploring the range of plant species here. 
10. Horse Riding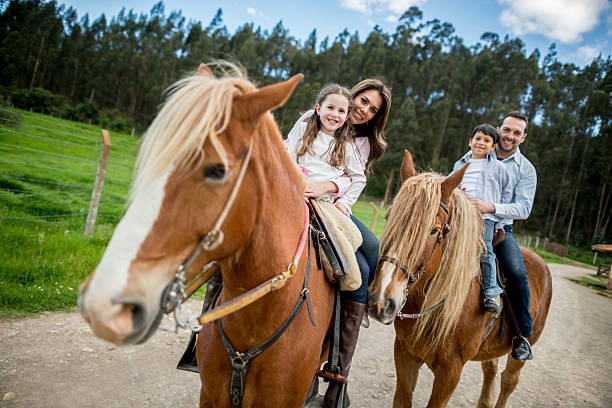 It is any day a fun activity for kids and a new learning experience. The cherry on top of horse riding in Kodaikanal is the scenic beauty of the countryside and picturesque view. The mountains around with the cool and misty weather offer a perfect setting for spending a day in the countryside. It is safe for the kids as it is done under the guidance of experienced trainers. On top of that, it is also quite affordable.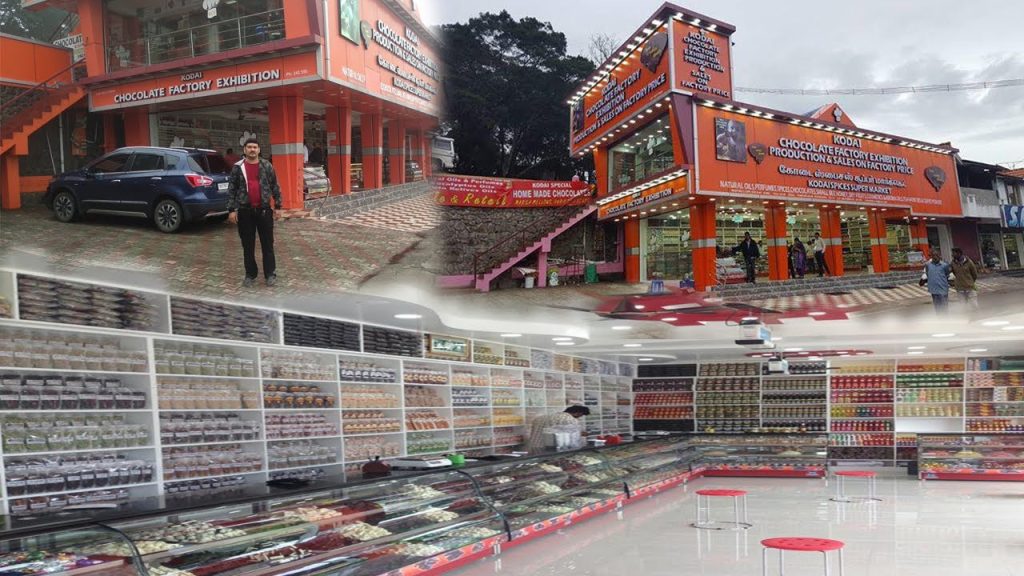 Because of the high-quality cocoa beans grown here, Kodaikanal had an upper hand in the chocolate industry even before the revolution of chocolate began. Thus, several chocolate factories are situated here with their wide-ranging variety of delicious chocolates. A tour of these chocolate factories is a wonderful experience, or should I say a mouth-watering experience.  
12. Kodaikanal Solar Observatory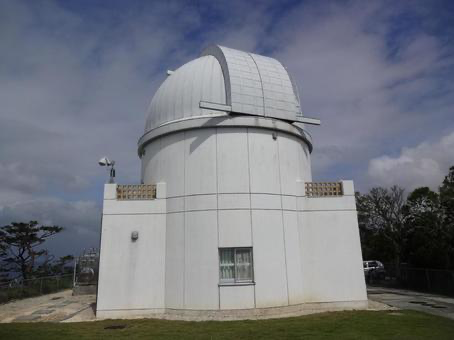 One of the oldest solar conservatories in the world, it has an astronomy museum on campus for visitors. It offers a unique learning experience for kids interested in astronomy. It also houses a library with a collection of books on astronomical findings. 
Takeaway
Thus, it can be said that Kodaikanal offers a range of experiences to visitors from the exquisite sight of waterfalls to a great learning experience at the Solar Observatory. Trekking, cycling, horse riding, and boating here are fun activities to do in the lap of nature.
It is a perfect destination for those looking for an escape from the hustle and bustle of routine life and spending some quality time surrounded by dense forests and a soothing environment.