Coakers Walk in Kodaikanal – Complete Guide, Images, Timings & More
"On Earth, there is no heaven, but there are pieces of it"

– Jules Renard
When it comes to scenic beauty, Kodaikanal has a lot to offer. A place abundant with luscious flora and breathtaking landscape, it's a nature lover's paradise. With its famous Kurinji flowers, cascading waterfalls, and prolific forestry, Kodaikanal holds another spectacle for passionate naturalists- Coaker's Walk Kodaikanal.
Coaker's Walk Meaning
Coaker's Walk is a one-kilometre stretch of walking trail in Kodaikanal, Tamil Nadu's southern hill region. Many tourists flock here for morning and evening walks, as well as to behold the sunsets and sunrises. Hills, plateaus, and rivers surround the panoramic vista.
About Coaker's Walk Kodaikanal
Coaker's Walk was named after Lt. Coaker after it was discovered in 1872. It is situated on the lovely hill station's southern slopes. If you prefer wandering in the woods, you will adore this lane. This location, located one kilometre from Kodaikanal Lake, is famed for its lengthy meandering roads, woodlands, and flowers. The Telescope House, which provides a spectacular view over the valley and adjacent towns, is the main attraction of this location. Tourists visiting this location must acquire a ticket to enter Coaker's Walk.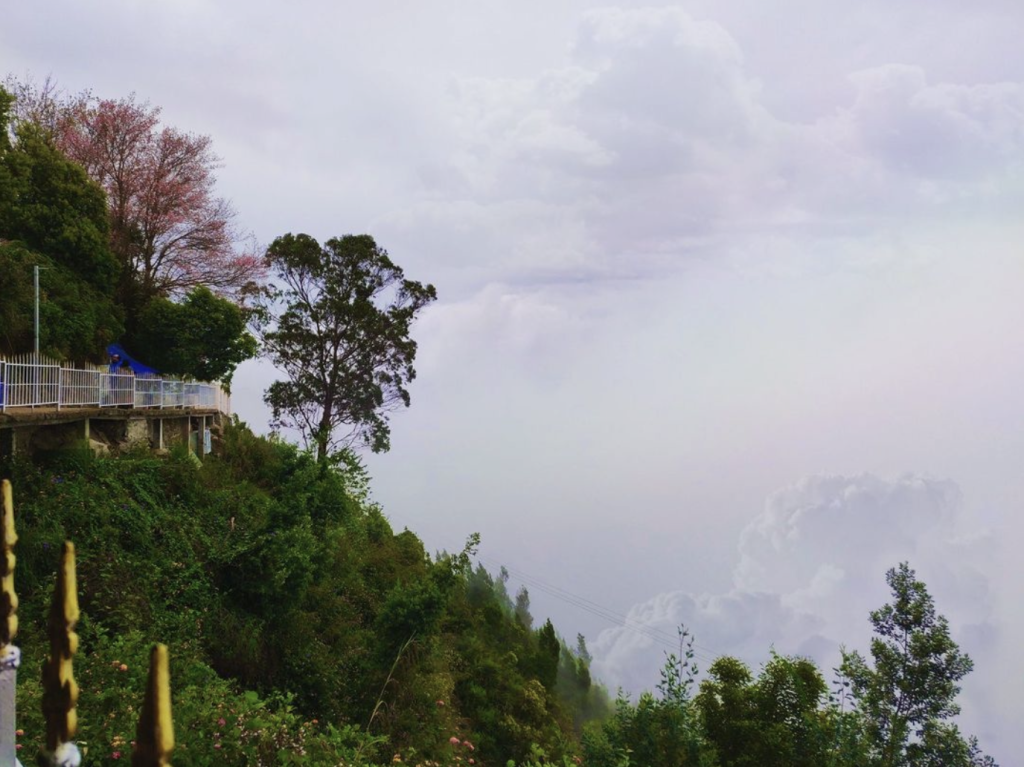 Ticket Price: The ticket price is Rs 10 per head, Rs 20 for Telescope House and Rs 30 for Still Camera. There's an array of vendors selling snacks and trinkets along the way.
On a clear day, views may be seen as far as Dolphin's Nose in the south, the Pambar River valley in the southeast, Periyakulam town, and even Madurai city.
Telescope House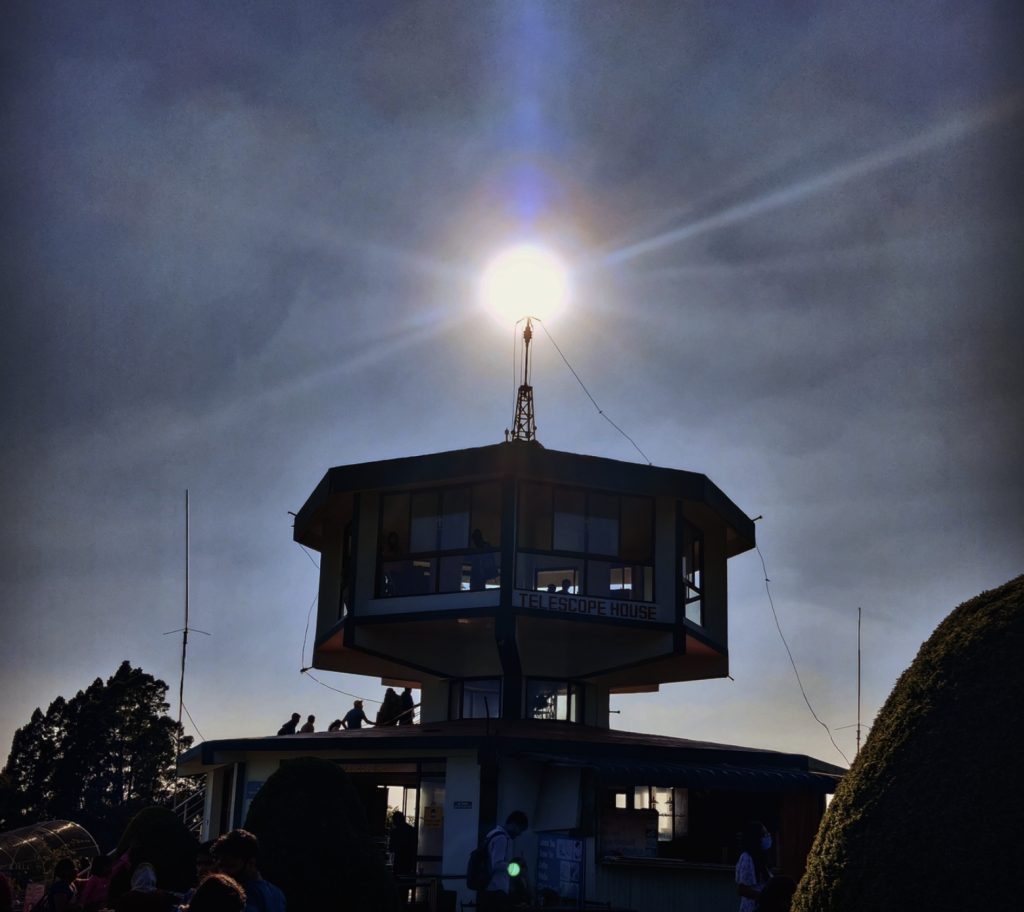 Nothing is more relaxing than mesmerizing natural scenery with the sounds of birds chirping and wind blowing after a long day. The Telescope house is a popular tourist spot which is located at the northern tip of Coaker's Walk. The Telescope house offers an expansive view of the valley and one can spot Vaigai Dam, Sothupparai Dam, Periyakulam and Varaha River.
Location
Coaker's Walk is a 1-kilometre (3,300-foot) paved pedestrian walkway that runs along the edge of steep slopes on the southern side of Kodai and is 500 metres (1,600 feet) from the bus stop. The walk begins in front of the Van Allen Hospital, runs parallel to the Van Allen Hospital Road, and joins the main road at St. Peter's Church, affording a magnificent panoramic view of the plains.
Coaker's Walk Timings
The track is open from 7 am to 7 pm Monday through Sunday which makes it super convenient for you to explore the place at whatever time suits you best. The ideal time to venture to Coaker's walk is 2:30 pm or earlier as the onset of mist begins by late afternoon.
How to Reach Coaker's Walk Kodaikanal
The distance from Kodaikanal Bus Stand to Coaker's Walk is a mere 0.8km, which takes about 10 mins to cover. A lot of people choose to reach there on foot, however, it can be time-consuming and hence renting a cab or bike is a breezy option.
Where to Stay
Kodaikanal is packed with charming hotels located in proximity to popular tourist spots. Below we've curated a list of Coaker's Walk resorts that will offer you an enjoyable stay while you explore Coaker's walk and other wonders of Kodaikanal.
One of the most affordable yet pleasant resorts that is only 0.5km away from Coaker's Walk. With a 4.5 star rating and 1,334 reviews on tripadvisor.in, Villa Retreat is priced at Rs 3,142 per night along with free breakfast and lunch/dinner options based on the packages. This is an ideal resort for a family vacation as it also offers indoor and outdoor games facilities for entertainment.
Another well-admired hotel that is recommended by various tourists for family trips. This Hotel is located at a distance of 0.7km from Coaker's walk and is in the vicinity of Kodai Lake and Bryant Park allowing you to explore more places in addition to Coaker's Walk. To make your vacation more convenient, the hotel provides cab service as well. It's priced at Rs 4,479. Something to note is the checkout time of this hotel is 10 am so you might need to book in advance.
A chic resort that offers Alfresco Dining and Massage Therapies plus complimentary breakfast. Start your day by indulging yourself in a cup of tea and the fresh view from the balcony of your room. Based on several reviews by the visitors, Le Poshe by Sparsa is undoubtedly an impressive resort under 5k. The ambience and food are so loved by the tourists that they keep coming back!
Eateries Near Coaker's Walk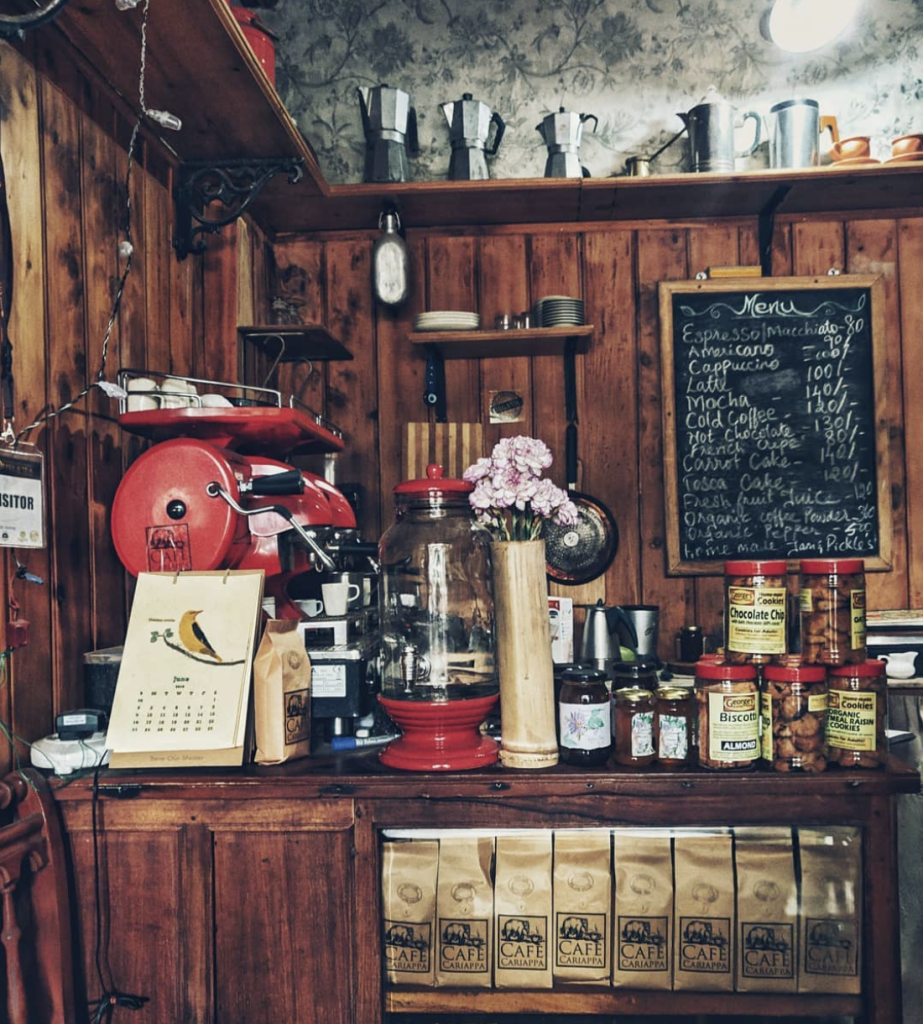 Cafe Cariappa: A cute and rustic cafe perfect for your evening cup of coffee with some light snacks. It offers Dine-in as well as Takeaway services and is open from 11 am to 6 pm.
The Circle Cafe: If you get hungry in the middle of your stroll, this place's got you! Enveloped in mist, this dainty cafe looks straight out of a cartoon show. You can choose takeaway, dine-in or delivery service from this cafe.
Pastry Corner: Got a sweet tooth? Head for this cafe and savour the assorted desserts here. Other than pastries, this place also serves delicious pizza and other snacks.
Tava: If you're craving something simple and homely, this is the place to go. From daal tadka to kadhai paneer, Tava serves appetizing Indian and Asian cuisine.

Must-Visit Places Near Coaker's Walk Kodaikanal
When in Kodaikanal, there are a few tourist spots that you shouldn't miss! The best part about Kodaikanal is that you'll never run out of places to traverse. Here are the nearby attractions that deserve to be a part of your itinerary when you're here for Coaker's Walk.
Bryant Park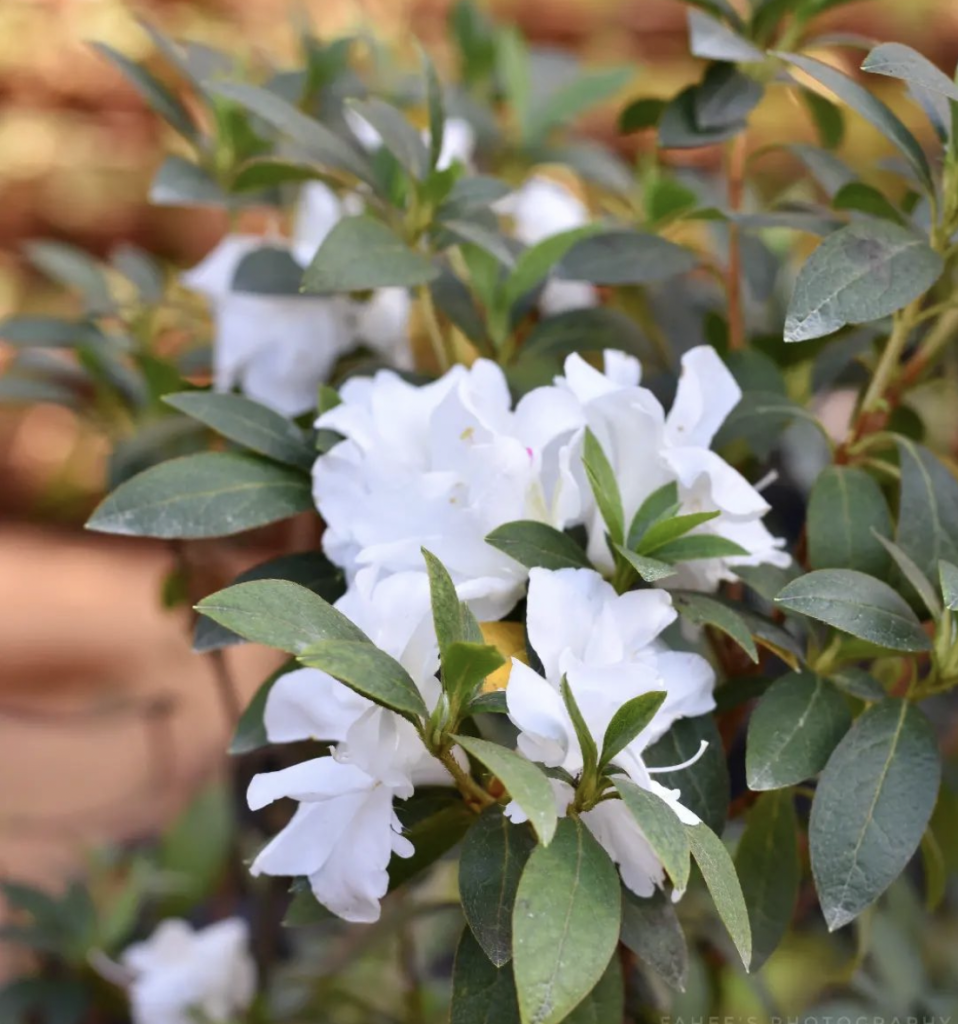 Timings: 9 am to 6 pm
Entry fee: Adults- Rs 30/ Kids- Rs 15
This beautiful park, adorned with various species of flowers and shrubs is located on the East side of Kodai Lake. There's a direct pathway to Bryant Park once you've had a stroll in Coaker's Walk. The botanical garden, named after the forest officer of Madurai, Mr H.D. Bryant, spans over 20 acres and houses around 325 species of trees, cacti and shrubs. The greenhouse here accommodates ornamental and exotic flowers from all over the world. Evening is the best time to visit Bryant park if you wish to relish the surreal sunset.
Although there are food shops nearby, you may bring along a bedsheet and some snacks for family picnic time. Make sure to carry a camera.
You can either walk to Bryant Park directly from Coaker's Walk or book a cab from your place of accommodation.
Dolphin's Nose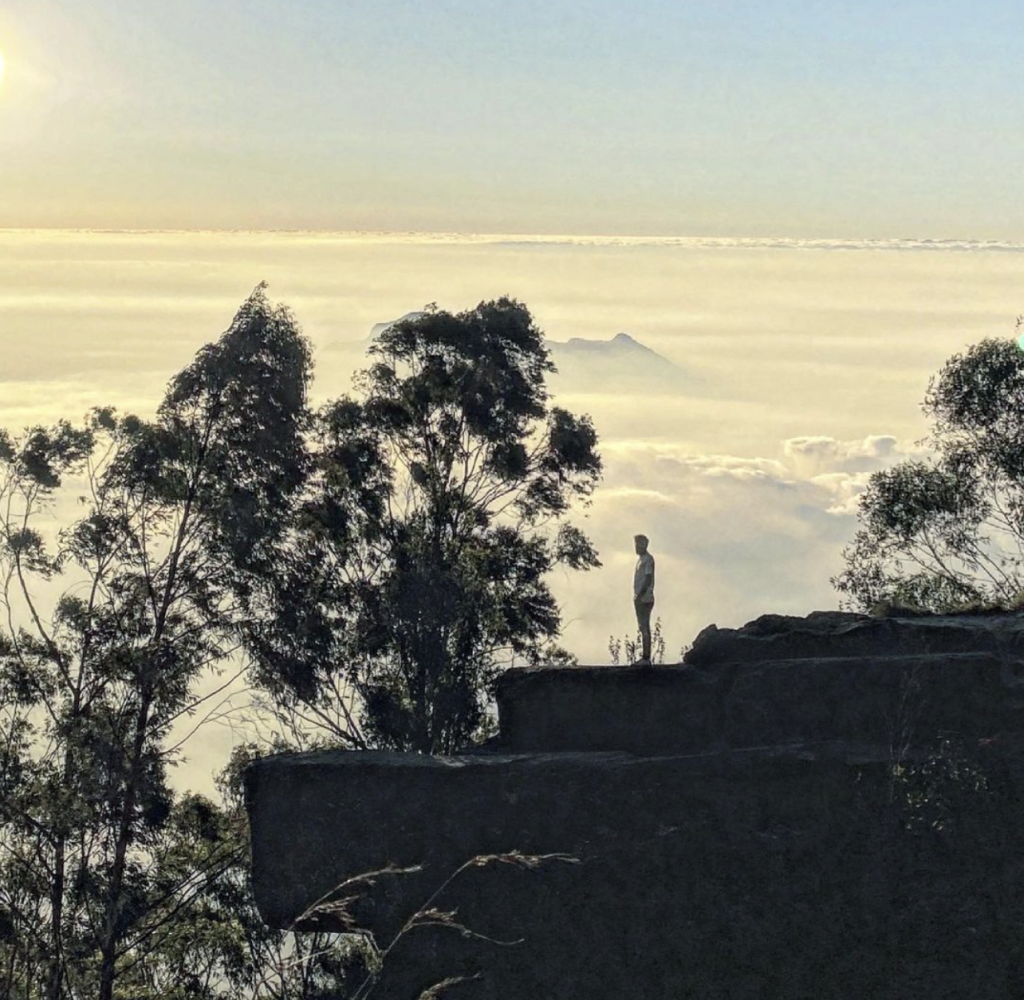 Timings: 12 pm to 12 am
Entry fee: free
The Dolphin's Nose, at a height of 6600 feet, provides breathtaking views of the entire city. The grandeur of Dolphin's Nose is summed up by rugged terrains, bright skies, deep valleys, and the magnificence of lush green surroundings.
The cliff is perched on a flat, projecting granite outcropping. It resembles the form of a dolphin's nose in appearance. This is how the cliff became famous around the world. The Echo Point is the finishing line of Dolphin's Nose. This will take a lot more effort to reach so it may not be for the faint-hearted but it's always fun to hear your voice echo back. Post-monsoon is the right period to visit and trek to Dolphin's Nose.
Pine Forest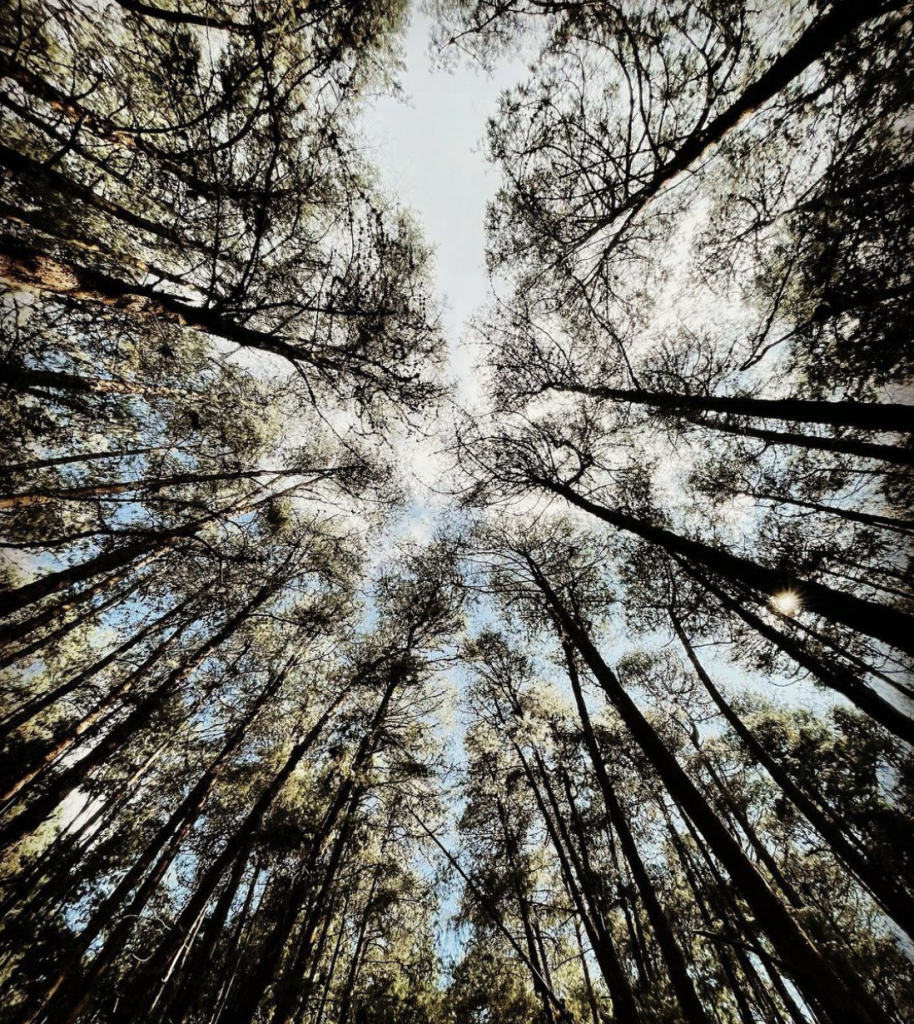 Timings: 11 am to 10 pm
Entry Fee: free
On the Poombarai road, 5 kilometres from Kodaikanal Lake, is the Kodaikanal Solar Observatory. When you get to the Solar Observatory Museum, you will be treated to a breathtaking view of Pine Forest. Yet another delightful retreat for people who yearn for tranquillity. Horse riding is a famous activity here. The forest is laden with monkeys hopping around from one tree to another.
Kodai Lake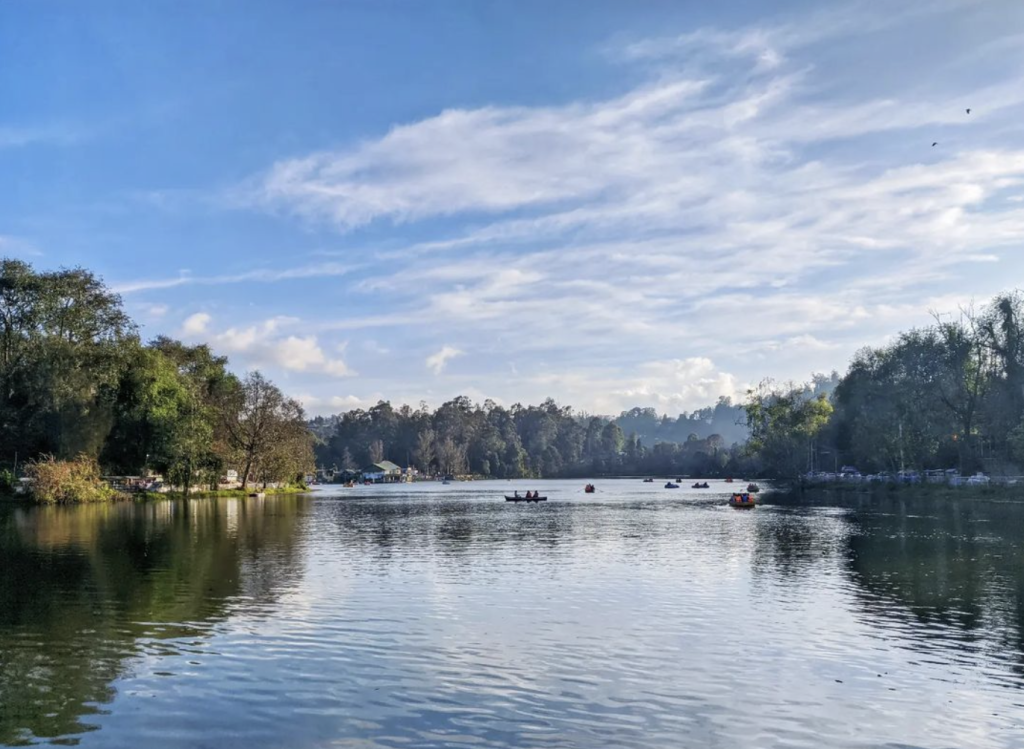 Timings: 6 am to 5 pm
Boating Fee: Rs 70 to Rs 245
One of the most touristy sites near Coaker's Lake is Kodai Lake, also known as Kodaikanal Lake. There are a variety of activities available, such as horseback riding and bike rentals, that allow for a cultural exploration of the surrounding areas. Many people choose to bike since it is a healthy and pollution-free means of transportation. Aside from that, roadside booths serve fresh, exotic-tasting snacks and beverages, giving visitors a comprehensive cultural experience.
Traveller's Note
Hopefully, this extensive guide gave you valuable insight into Coaker's Walk and some other attractions of Kodaikanal. As you plan your trip to the Coaker's Walk, keep account of the weather conditions and bear in mind to carry the following items with you:
Mosquito repellant
Bedsheet
Snacks and beverages
Water
Camera
Backpack
Happy Traveling!