5 Unique and Lovely Cafes in Kodaikanal
Kodaikanal is a picturesque hill station located in the state of Tamil Nadu in southern India. It is a popular tourist destination for people looking to escape the heat and hustle of city life. The town is known for its natural beauty, with dense forests, beautiful waterfalls, and stunning views of the hills.
Kodaikanal is also known for its cafe culture. The town has many cafes where visitors can enjoy a hot cup of coffee or tea, indulge in delicious snacks, and soak in the charm of the hill station.
Suggestion to Read: KODAI EATS: MOST FAMOUS CAFES & RESTAURANTS IN THE AREA
Experiencing cafes in Kodaikanal is an excellent way to enjoy the town's beauty, food, and culture. These cafes offer visitors a cozy and comfortable environment to relax, enjoy delicious food, and connect with locals and other tourists. With so many options to choose from, visitors are sure to find a cafe that caters to their taste and preference.
1. Pastry Corner
Pastry Corner in Kodaikanal is a charming little bakery that is a must-visit. The bakery offers a wide range of delectable pastries, cakes, and bread, all of which are freshly baked on-site. The ambiance is warm and welcoming, with the aroma of freshly baked goodies filling the air. The pastries are beautifully decorated and taste as good as they look. The friendly staff is always ready to assist you in selecting the perfect pastry for your taste. Whether you are looking for a quick snack or want to indulge in some treats, Pastry Corner is the place to be.
The cafe offers a variety of freshly baked pastries, cakes, bread, and other sweet treats, as well as a range of hot and cold beverages such as coffee, tea, and milkshakes. The cafe has a cozy and inviting atmosphere, perfect for relaxing and indulging in some delicious goodies while taking in the beautiful surroundings. Whether you're looking for a quick snack, a place to hang out with friends or a spot to savor some sweet treats, Pastry Corner cafe is definitely worth a visit.
2. Ten Degrees Kodai
Located on Observatory Road, Ten Degrees Kodai is a beautiful cafe that boasts stunning views of the valley and a charming, rustic decor. The cafe is situated in a serene location, away from the hustle and bustle of the town center, making it the perfect place to unwind and enjoy a cup of coffee or a healthy meal.
The menu at Ten Degrees Kodai offers a range of healthy and organic dishes, from breakfast bowls to vegan burgers. They also have a selection of teas and coffees that are exceptional. Their coffee is sourced from local farms and roasted in-house, ensuring that you get a fresh and flavorful cup every time.
One of the highlights of Ten Degrees Kodai is its outdoor seating area, which overlooks the valley and the surrounding hills. The area is adorned with potted plants and comfortable seating, making it the perfect place to relax and soak in the stunning views..
3. Royal Tibet Restaurant
Royal Tibet Restaurant is a hidden gem that promises a unique and flavorful dining experience in Kodaikanal. The restaurant is located on Upper Shola Road, just a short walk from the town center, and offers a range of delicious Tibetan dishes that are sure to delight your taste buds.
The walls were adorned with beautiful artwork and prayer flags, and the wooden furniture added a touch of warmth to the space. The restaurant is small and intimate, making it the perfect place to relax and enjoy a meal with friends and family.
Royal Tibet Restaurant has a menu that is sure to cater to everyone's tastes. They offer a range of vegetarian and non-vegetarian dishes, from traditional Tibetan favorites to fusion cuisine that incorporates international flavors.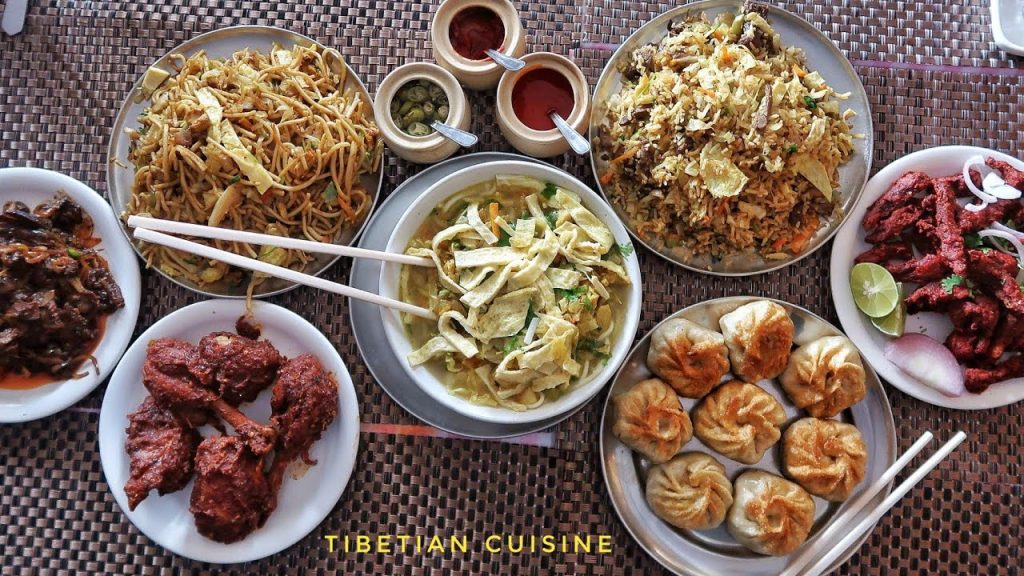 The Restaurant is also known for their range of beverages, including traditional Tibetan butter tea and a range of fruit juices. I decided to try the butter tea, which is a unique and flavorful beverage made with butter and tea leaves. The tea had a smooth and creamy texture, with a hint of saltiness that added a unique depth of flavor to the drink.
4. Passiflora Art Cafe
Passiflora Art Cafe is a one-of-a-kind cafe located in the heart of Kodaikanal. The cafe is situated on PT Road, just a short walk from the town center, and is a heaven for art lovers and foodies alike. Passiflora is not your average cafe, it is a quirky and creative space that promises a unique and unforgettable experience.
Passiflora Art Cafe's walls were adorned with beautiful murals and artwork, and the furniture was a mix of vintage and modern pieces that added a touch of character to the space. The cafe is small and cozy, with a relaxed and welcoming atmosphere.
Passiflora Art Cafe in Kodaikanal offers a range of delicious and creative dishes that are sure to delight your taste buds. They specialize in vegetarian and vegan cuisine, with a menu that incorporates international flavors and local ingredients. One of the must try dish was their Avocado toast, which was served on freshly baked bread and topped with a variety of colorful and flavorful vegetables. The dish was both healthy and delicious, with a unique blend of flavors and textures that one would never get at other place.
Passiflora Art Cafe is also known for their range of hot and cold beverages, including coffee, tea, and shakes. Signature chai latte, which had a rich and spicy flavor that was perfectly balanced with the creaminess of the milk. It was the perfect accompaniment to my meal.
Apart from the food and beverages, Passiflora Art Cafe is also a creative space that offers a range of art workshops and events. They have a studio space where visitors can participate in painting and crafting activities, and they also host music nights and poetry readings. The cafe is a hub for creativity and community, making it a must-visit for anyone looking for a unique and unforgettable dining experience.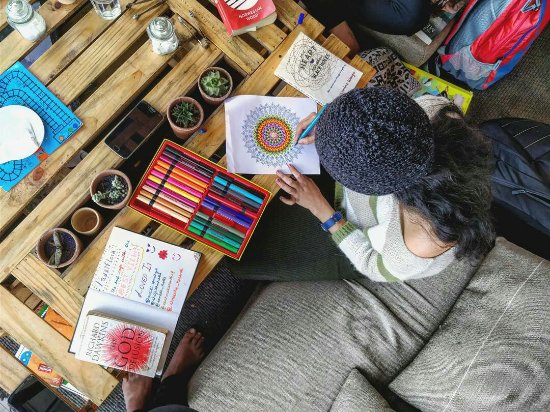 5. Aby's Cafe
Aby's Cafe is a charming little eatery in Kodaikanal that is sure to capture the hearts of foodies and coffee lovers alike. The cafe is located on Laws Ghat Road, just a short drive from the bustling town center of Kodaikanal.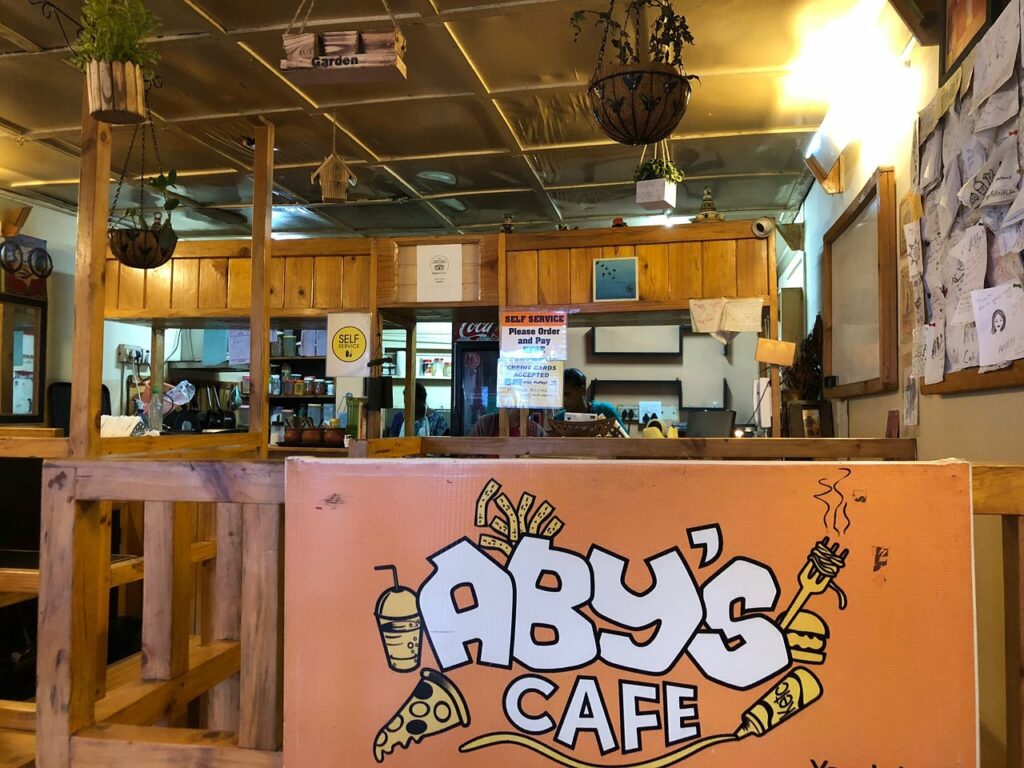 The restaurant's decor is simple yet elegant, with wooden tables and chairs, and beautiful wall art that creates a warm and inviting atmosphere. The cafe is also surrounded by lush greenery, offering a serene and peaceful escape from the chaos of Kodaikanal.
Aby's Cafe has a menu that boasts a variety of options, ranging from South Indian staples to continental dishes. One of the highlights of Aby's Cafe is their coffee. The cafe serves a range of coffee options, from espressos to lattes, and even their signature cold brew. The coffee was smooth, perfectly roasted, and had a rich flavor that lingers your taste buds.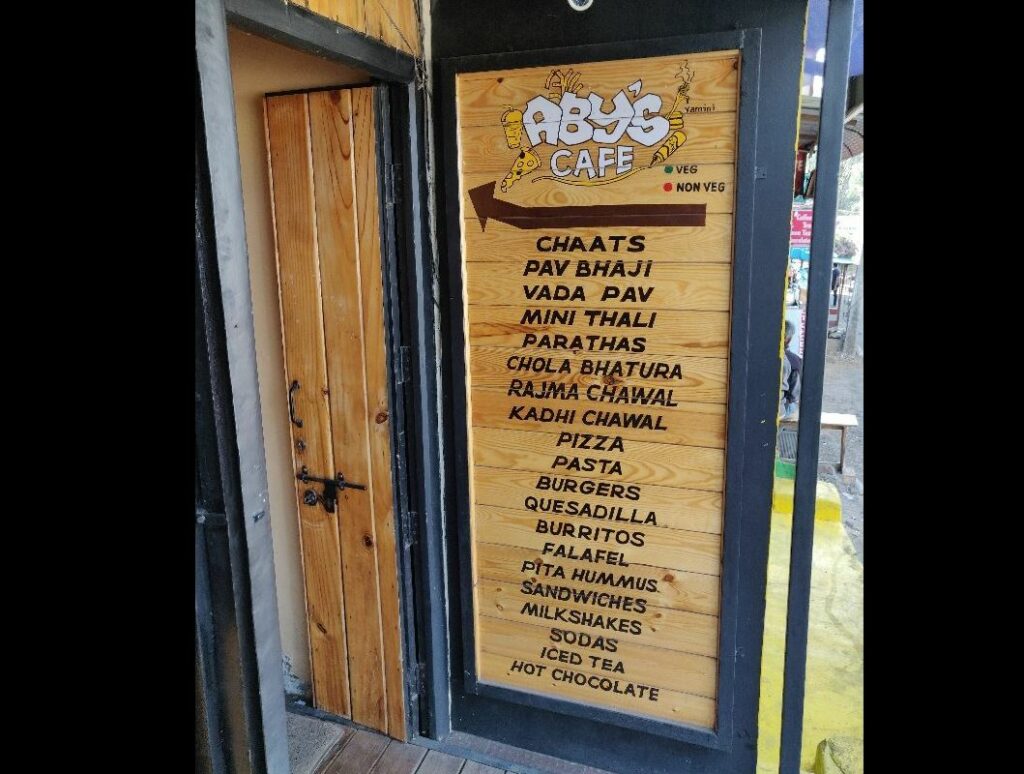 Overall
Kodaikanal is home to a range of unique and lovely cafes that offer a delightful dining experience. Whether you're looking for healthy food, international cuisine, or sweet treats, there's a cafe in Kodaikanal that's perfect for you. So, next time you're in Kodaikanal, make sure to check out these five cafes and indulge in their delicious offerings.
Suggested to Read: DISCOVER THE BEST OF LOCAL FOOD IN KODAI WITH US