The splendid beauty, the natural panorama and the mystic charm of Kodaikanal can be best experienced while indulging in the happening Nightlife in Kodaikanal. Unlike other hill stations, Kodaikanal spells an enduring charm when the sun starts to set. From the shining night food streets to the adventurous and happening experiences, a night here in Kodaikanal offers you many memorable and exciting experiences. Loaded with a plethora of entertainment options like a night safari in the woods and Camping at Bear Shola Falls, Kodaikanal stays crowded in the night too.
Kodaikanal, 2,000 meters above sea level, the town centers around man-made, star-shaped Kodaikanal Lake, bordered by evergreen forest.
Kodaikanal night rides does not include sightseeing and adventures only, as this place also houses many famous food joints which specifically operate in the nighttime only. From watching your favourite pizza being tossed at 3 in the morning to binging on local delicacies like Thukpa soup, here you will find numerous places to enjoy late night snacks for your midnight cravings.
Itinerary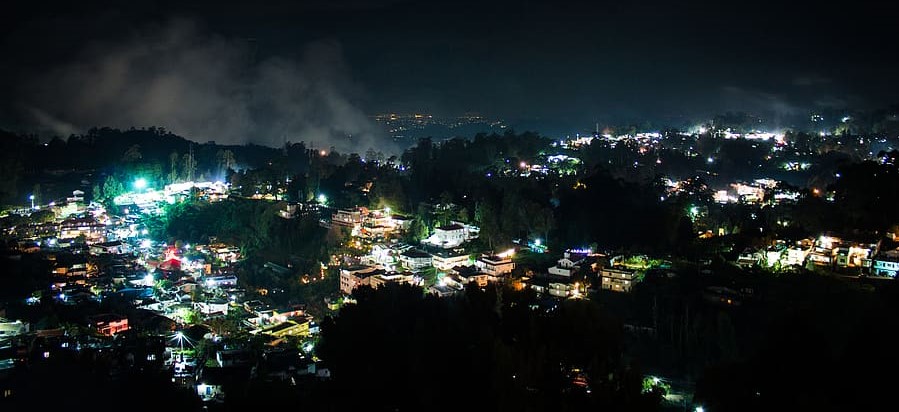 Silver Cascade Falls Night View
The Silver Cascade Falls formed as a result of the over flowing of the famous man-made Kodai Lake, are the perfect way to have a break while on a long road trip.
Flower Beds
Kodaikanal Flower Beds (Rose Garden) built on 12 acres. It is bigger than what you've expected. Ultimately, it is bigger than the Ooty Government Rose garden as that is 9 Acres in total. Tamilnadu Government owns Kodaikanal Rose Garden.
Shining Night Sky
When the sky is clear, the starts are very bright and easily visible to the naked eye. Kodaikanal has an observatory.
Calming Vibes
More than that of just the calm place – night drive through the city. Very scenic.
Drop to City or in Hotel
Kodaikanal Lake, also known as Kodai Lake is a manmade lake located in the Kodaikanal city in Dindigul district in Tamil Nadu, India. Sir Vere Henry Levinge, the then Collector of Madurai, was instrumental in creating the lake in 1863, amidst the Kodaikanal town which was developed by the British and early missionaries from USA.
What's included
Training, Photos and Videos
Site transfers
Car on Arrival
Accommodations
Drop out on Kodaikanal city
Not Included
Flights
Insurance
Additional Services
Feedbacks
Kodai is good place for enjoying weekends. Lights on kodai lake is spectacular view. If u love peddle boats , go on morning time. Beautiful lake for cycling and walking. One can try boating also. Overall good view and one can spend some time.
Travel guide
Prepare for an adventure in this stunning destination with our travel guide.
All information in this article is just for demo purposes of Pambar Waterfalls in Kodaikanal – Everything You Need to Know. Check our Blog about Coakers Walk in Kodaikanal – Complete Guide, Images, Timings & More
More About Kodaikanal
Hidden Gems of Kodaikanal
Embark on a journey of a lifetime with Kodaikanal Tours and Guides – your one-stop-shop for all things Kodaikanal!"
Scenic Beauty of kodaikanal
Our Kodaikanal guides are locals who know the city like the back of their hand, ensuring you get the most authentic experience possible.
Night Rides – Kodaikanal
Kodaikanal – Village Eco Tour
Valley & Park Tour
Vattakanal Tour – With Trekking